Baby Ballet  (Pre-ballet for ages 2-5 yrs)
​​
At Kinetics we strive to create a magical place where children learn to dance through
imagination and creativity. This is a ballet-based creative movement program where children learn the basics of ballet (basic positions of arms and feet) while exploring their own movement potential. This is accomplished through the clever use of props and story-telling. All children will 'fly' if given a feather for each hand!

​​

Some favorites include our Peter Rabbit dance, where the children each become Peter, dancing in the garden and stuffing themselves on Mr. McGregor's vegetables. Just wait till he returns home to find rabbits all over his garden! Other favorites include: Vegetable Soup, the Rainbow Dance, the Fairy Circle, Teddy the Tiger, The Elephant and more!   

Through dance and music exploration, all of our Baby Ballet Classes provide enrichment in a child's physical, social, emotional, language, and cognitive development.  Every class provides child-centered, and age appropriate activities taught by very loving and skilled instructors.
CLASS SCHEDULE AND REGISTRATION
Ballet (Ages 5 yrs to Adult)

At Kinetics, ballet classes begin at age five.We utilize aspects of the RAD (Royal Academy of Dance) syllabus, as well as the eclectic All-American style. Careful attention is paid to creativity and correct technique appropriate to the students physical, cognitive and emotional development.


5-7 year olds-Beg. Ballet I-This is a natural extension of the Creative Dance Program. The ballet barre and center are expanded and across the floor work is added. Ballet terminiology and technique are introduced in a fun and engaging way.
​


8-14 years old- Beg. Ballet II, III and IV-At this age, students are ready for increased emphasis on technique and longer combinations. Students learn basic positions of feet and arms, turns travelling steps and leaps. Dancers are also given opportunities for creative dance and independent choreography


Teen/Adult Ballet- It's never to late to begin, or to return to a past love! Our teen/adult ballet classes are geared towards the beginning, recreational dancer who dances for pleasure and exercise. 
 
CLASS SCHEDULE AND REGISTRATION
Tap!!!!  (Ages 4 to Adult)
Tap and Tumble  (Ages 4-6)

These , fun and energizing  tap classes introduce basic rhythms, steps and combinations. Tumbling and activity stations are added to build coordination, body and spacial awareness and strength.

Tap (Ages 7-17)

Dancers who love to feel the beat will love our tap program. With age comes greater  coordination to make some great rhythms and beats!  Our Jazzy Tap students will gain a great foundation in classic tap steps and combos to accomplish any skill level  they hope to attain.  

Whether just beginning or building on, our adult tap classes are the place to be!  You will have a blast learning new skills and fun dances whatever level! We promise this to be a highlight to your week!

   (* For Ballet/Tap combo classes  see our Baby Ballet and Ballet classes.)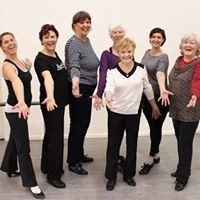 CLASS SCHEDULE AND REGISTRATION
Our Move and Groove classes and other free movement classes are great for those who...LIKE TO DANCE & MOVE! 

Hip Hop is a super clean and fun way to get down to todays popular music!
 

CLASS SCHEDULE AND REGISTRATION
Dance Core & Ballet Fitness (10 - adult)
This is a great class for adults who love to dance and want to use it as an exercise form. This class will retain the elements of a traditional ballet class (barre, center and across the floor work) but includes specific floor exercises geared to strengthening your core. Dynabands, mat work and elements of Pilates-type exercises are used. 

CLASS SCHEDULE AND REGISTRATION
Lyrical/Contemporary    (ages 8 to adult)
Lyrical dance is a blend of many dance forms, including ballet, modern and jazz. It is sometimes referred to as Contemporary dance and is usually done to contemporary music. Lyrical is based on strong technique but allows more fluidity and personal expression than ballet. It's a beautiful art form!
 

CLASS SCHEDULE AND REGISTRATION
Ballroom and Wedding Dance Lessons
Group lessons - If you've always wanted to learn to dance-here's your chance! Our six week introductory course covers Foxtrot, Swing, Cha Cha, Waltz and Night Club Two Step. Partner recommended. 
​
Semi-private Group Lessons - We can arrange a group lesson for three couples or more at your convenience. Contact us to schedule. 
​
Private lessons - We frequently provide instruction and coaching to couples preparing for their first dance as a married couple. You provide your special song and we'll teach you to dance to it. All eyes will be on you-our lessons make sure you look fantastic at your wedding!
 

CLASS SCHEDULE AND REGISTRATION